In this article, we will cover all working Cats And Soup codes that you can utilize to redeem various in-game rewards such as gems, coins, fish and more. Get ready to become the ultimate Cats And Soup champion as we guide you through the world of limitless treasures!
List of Working Cats And Soup Codes (Updated on December 2023)
BLACKCATFRI: 1 star macaron. (Expired Dec 31st, 2023)
2023GIVING: 3 pudding, 100 butterflies. (Expired Dec 31st, 2023)
AUTUMNCAT: 3 special observatory tickets. (Expired Dec 31st, 2023)
BOO31CAT: 500 gems, 500 furniture coins. (Expired Nov 30th, 2023)
5000HAPPYDAY: 50M mini room furniture x3. (Expired Nov 30th, 2023)
THX5000CAT: 50M wallpaper, flooring and wall decor. (Expired Nov 30th, 2023)
DAYCAT: 200 gems
LOVEGEM: 500 gems
SECRETCAT: Secret Items
CATDAY: Random Resources
We strive to find fresh, fully functional codes every day so that we can offer you free resources and items. All of these codes are sourced from trustworthy and genuine sources, ensuring there is no risk of bans. Before making them publicly available, we thoroughly test each daily code. If any codes fail to work, please let us know in the comments and we will promptly update them.
How to Redeem Codes in Cats And Soup
Here is how you can redeem Cats and Soup codes:
Open the Cats And Soup game.
Go to Setting.
Switch to Support Tab.
Copy User ID.
Go to Redeem Page.
Enter your User ID and coupon code without '-'.
Press Register button.
Enjoy.
Remember: MAKE SURE YOUR GAME IS UP TO DATE TO THE LATEST VERSION BEFORE REDEEMING. CODES DO NOT WORK ON THE NETFLIX VERSION
You have to restart your game for the code rewards to appear in your mailbox. If you've already done that and still don't have your rewards, wait 24 hours and then reach out to the devs for support.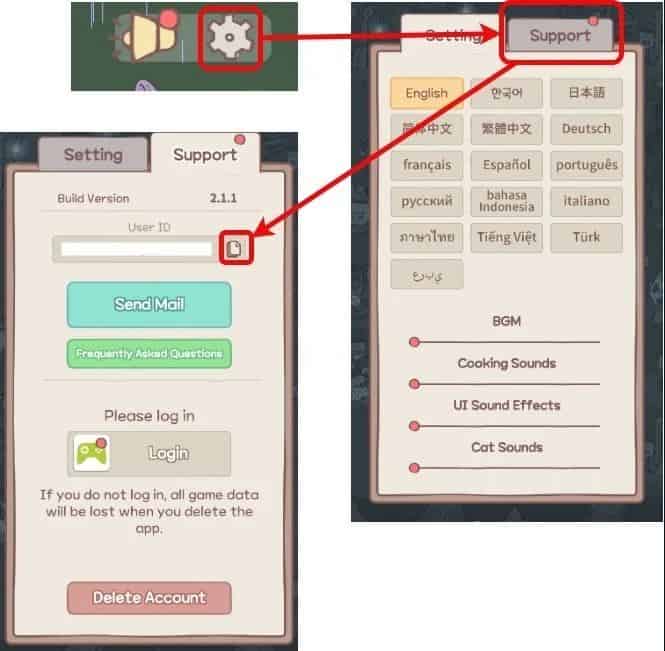 How To Get More Codes?
Check Cats and Soup official pages on Facebook, Reddit. Developers often release these codes during special events, game milestones, collaborations, and occasions.
Also, bookmark this page and check back regularly for the latest!
Find more game codes in our library!
A Delightful Cat-themed Idle Game for Cat Lovers!
Cats And Soup is a charming idle game that will warm the hearts of cat lovers everywhere. Available on various platforms, this adorable game offers a delightful blend of gameplay and story.
The gameplay revolves around raising and interacting with a variety of cute cartoon cats. Each cat is beautifully illustrated, showcasing different breeds like Ragdoll, Norwegian Forest Cat, and more. Dress them up in cute costumes, take photos, and even name them as you please. The mini-game of catching fishes to feed the cats adds a fun touch.
The ASMR sound and background music create a relaxing ambiance, making it a perfect game for those seeking a moment of tranquility. Additionally, the game's idle feature allows cats to cook and collect resources even when you're not actively playing, making it ideal for busy individuals.
With its easy-to-understand mechanics and addictive tycoon-style gameplay, Cats And Soup is a great choice for fans of animal and restaurant games. Whether you're a cat lover, an ASMR enthusiast, or simply in need of a relaxing experience, this game will surely leave you feeling warm and fuzzy inside.
So why wait? Download Cats And Soup now and embark on a journey filled with adorable feline companionship!
William, the creator of The Sapling Network, is a passionate gamer who loves sharing his gaming wisdom with the world. His in-depth knowledge and ability to uncover hidden methods have made him a trusted resource for gamers of all levels. Through The Sapling Network, William empowers gamers worldwide, enhancing their gaming experiences.